Condensed analysis due to holiday-thinned trading over Christmas.
IC Markets wish traders a very Merry Christmas and a Happy New Year.
Key risk events today:
Limited.
(Previous analysis as well as outside sources – italics).
EUR/USD:
Areas of consideration:
Although the uptrend is clear in this market (since March), weekly supply at 2420-1.2214 making an appearance and daily supply nearby at 1.2344-1.2279 (housed within weekly supply) may excite sellers this week. Countertrend traders are likely to take aim at 1.23, based on the H4 scale, and Quasimodo resistance at 1.2280 (extended from April 2018).
Any reaction from 1.23/1.2280 turns the spotlight back on the 1.22 figure (H4). Overthrowing 1.23/1.2280, nonetheless, signals bullish strength and could lift the euro towards 1.24.
The 1.22 figure may also be on the watchlists this week as possible support, a H4 base converging closely with a 38.2% Fibonacci retracement ratio at 1.2191.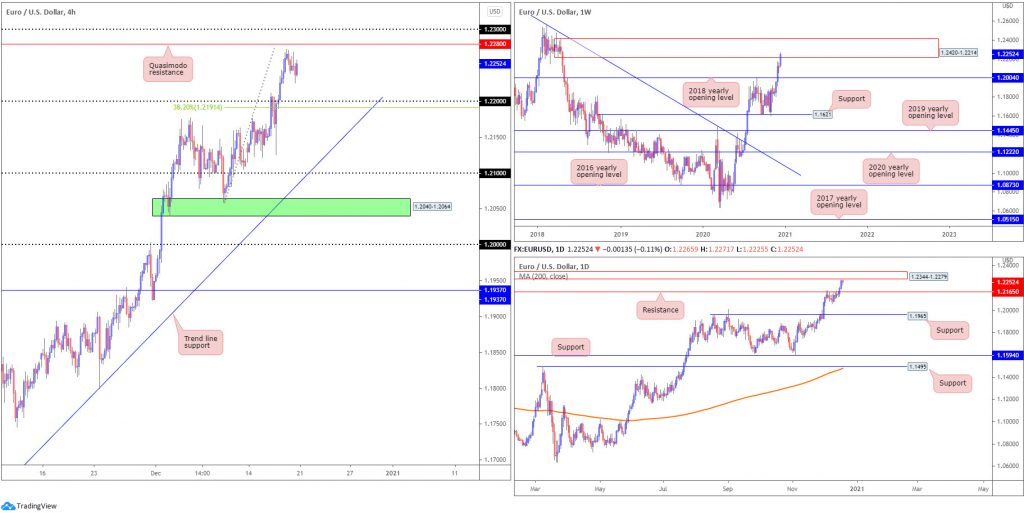 GBP/USD:
Areas of consideration:
Weekly resistance at 1.3503 (the 2018 yearly opening value) making a stand over the past couple of weeks may force price action to lower levels this week, targeting weekly support at 1.3250 (the 2020 yearly opening value).
Daily support priced in at 1.3457, however, boasts strong historical significance. Therefore, this could be a level buyers attempt to defend. Technically, H4 support is also seen around the 1.3450 point, arranged by way of a 50.0% retracement and a 38.2% Fibonacci retracement ratio at 1.3451 and 1.3436, respectively.
Support confluence is also present around the 1.33 figure on the H4 scale, reinforced by Quasimodo support at 1.3308, December's opening value at 1.3335 and a 61.8% Fibonacci retracement ratio at 1.3319 (green).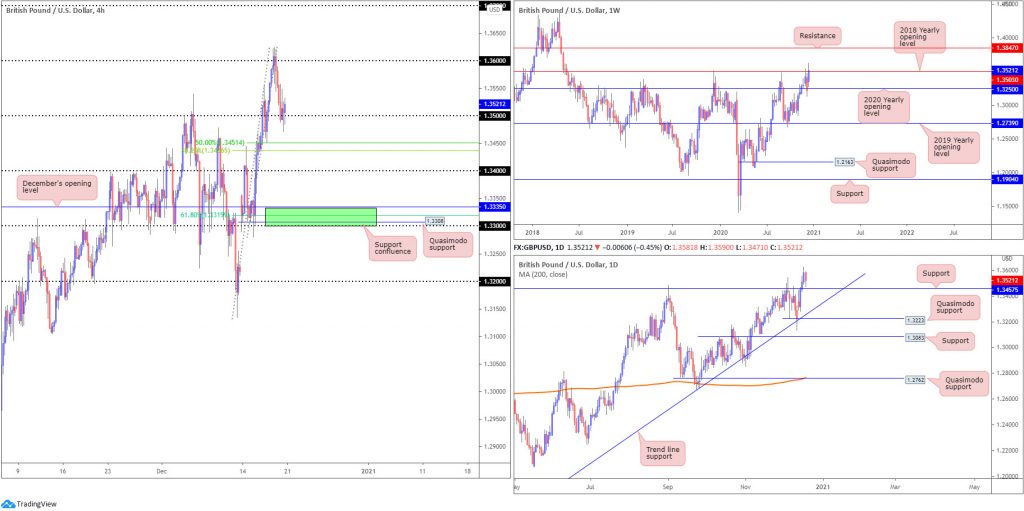 AUD/USD:
Areas of consideration:
The combination of weekly Quasimodo resistance at 0.7605, and the daily timeframe's AB=CD approach (red arrows) between 0.7675/0.7624 (resistance) will likely be a visually pleasing sight for countertrend sellers. An uptrend, according to the charts, has been present since March.
While higher timeframe resistance could discourage buying, it has not deterred dip-buyers off H4 support at 0.7590 and the 0.76 figure. Candlestick traders will acknowledge the rebound also forged a H4 inverted hammer pattern (bullish signal).
Another H4 support area to be watchful of this week is 0.7543-0.7573, converging closely with a H4 re-adjusted trend line support, taken from the low at 0.6991.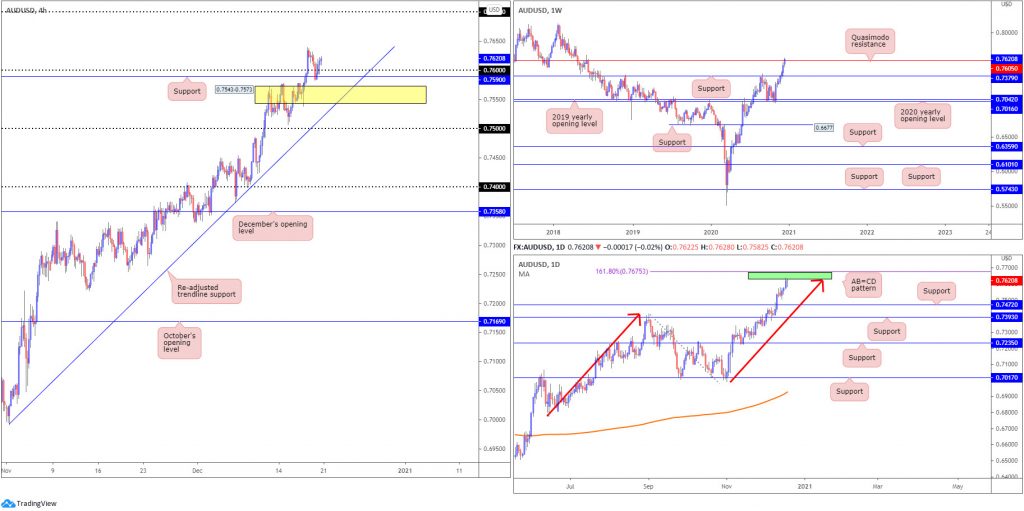 USD/JPY:
Areas of consideration:
The 103 figure remains a support to be mindful of this week, bolstered by 127.2% and 161.8% H4 Fibonacci projection points at 103.04 and 102.83, respectively. Off H4 support at 103.26, further buying possibly targets H4 resistance at 103.82, followed by the 104 figure.
Weekly Quasimodo support at 102.55 is also in the picture this week, should buyers let go of the 103ish range.
Since connecting with the underside of weekly supply at 108.16-106.88 in August, price has gradually shifted lower and developed a weekly declining wedge (106.94/104.18).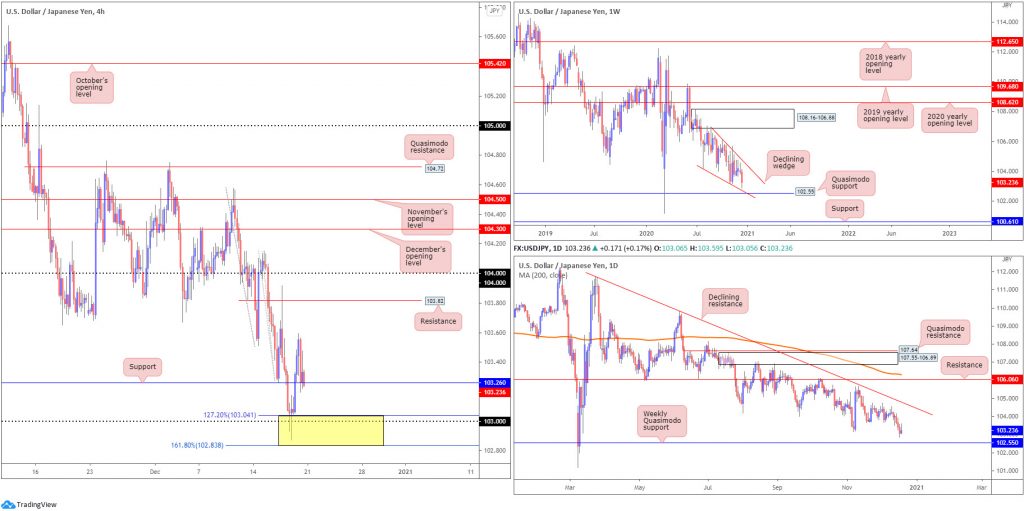 USD/CAD:
Areas of consideration:
The 1.28 figure on the H4 and daily resistance at 1.2782 forms interesting resistance to be mindful of this week. Above 1.28, aside from local tops around 1.2832, H4 supply at 1.2875-1.2853 is visible. A 1.28 break, therefore, may prompt a breakout buying theme.
Price action on the weekly timeframe, as highlighted in recent technical briefings, also reveals further selling could be on the cards this week. Recent weeks witnessed price elbow through the 2020 yearly opening value at 1.2975 and Quasimodo support coming in at 1.2887. With both 1.2975 and 1.2887 depicting resistance, sustained downside places the 2018 yearly opening value at 1.2579 in the firing line. Also important to note is that long-term flow has been pointing lower since topping in March.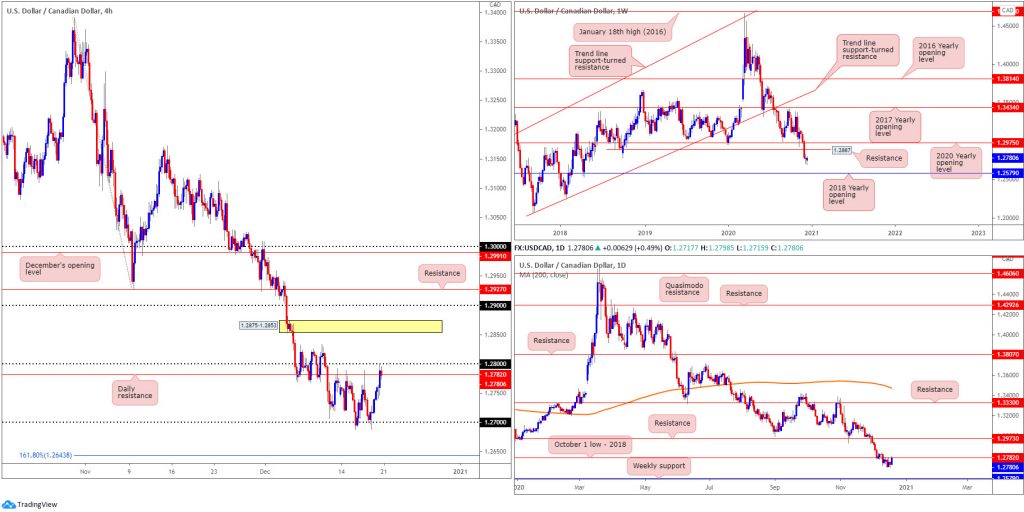 USD/CHF:
Areas of consideration:
Daily support at 0.8813 and the 0.88 figure, based on the H4 timeframe, is an area (yellow) traders will likely be watching this week. Note downside momentum on the H4 has subsided considerably since the beginning of December, with the candles compressing, seemingly clearing out sellers (spiking higher) as price explores lower terrain. This could mean large buyers may be accumulating positions as price approaches the 0.88/0.8813 region for a potential rally higher.
Should 0.88/0.8813 give way, though, a bearish scenario may form towards weekly support at 0.8696 – essentially the 0.87 figure on the H4.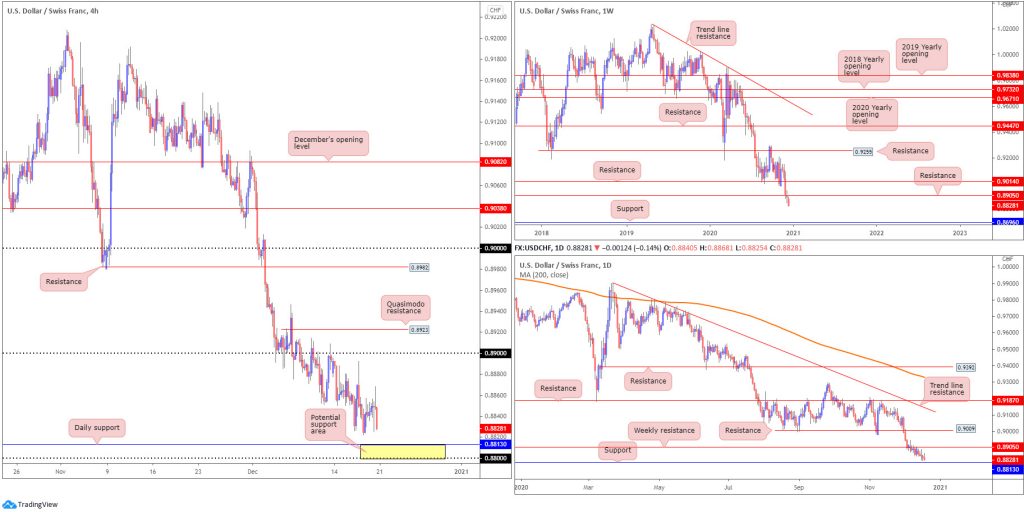 Dow Jones Industrial Average:
Areas of consideration:
Although testing all-time highs, we have price forming H4 resistance around 30,279, as well as a rising wedge pattern on the H4 chart between 29,723/30,322 and also on the daily chart between 28,940/30,097. Clearing 30,279 not only calls for fresh all-time highs this week, it also shines the spotlight on the 127.2% and 161.8% H4 Fibonacci projection points at 30,497 and 30,857, respectively.
A H4 close beneath the H4 rising wedge is likely to trigger a daily close beneath the daily rising wedge formation, and could see sellers pursue an intraday bearish theme under 30,000 on the H4.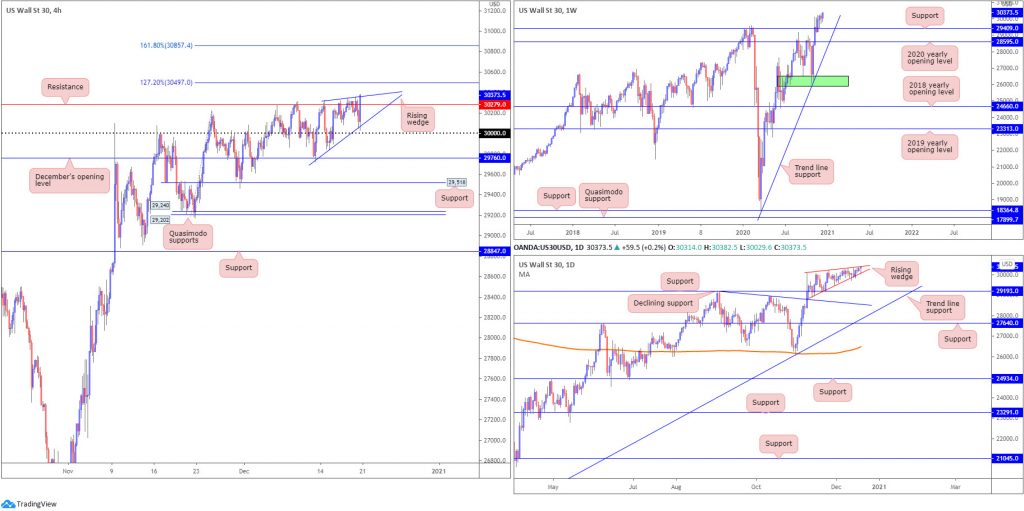 XAU/USD (GOLD):
Areas of consideration:
November's opening value at $1,878 on the H4 could offer a platform for buyers this week, having seen weekly price exhibit scope to approach resistance at $1,950 (off support at $1,787). In addition to this, daily supply around $1,870ish (dark green zone) is on the brink of giving way for nearby trend line resistance, taken from the high $2,075.
Upside targets off $1,878 fall in at the H4 Quasimodo resistance from $1,896 and the H4 resistance zone at $1,920-$1,910.
Intraday breakout buying opportunities may also emerge upon crossing above H4 Quasimodo resistance from $1,896.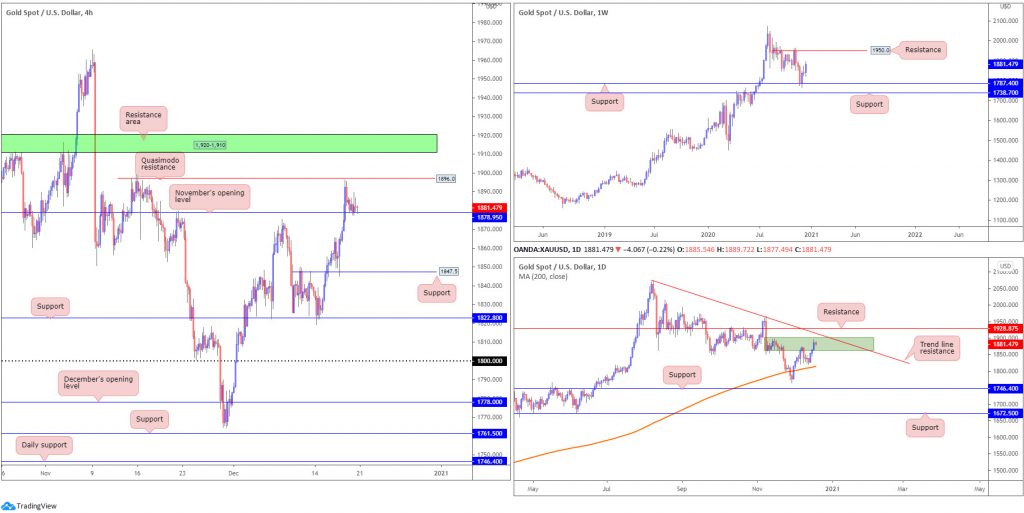 The accuracy, completeness and timeliness of the information contained on this site cannot be guaranteed. IC Markets does not warranty, guarantee or make any representations, or assume any liability regarding financial results based on the use of the information in the site.
News, views, opinions, recommendations and other information obtained from sources outside of www.icmarkets.com.au, used in this site are believed to be reliable, but we cannot guarantee their accuracy or completeness. All such information is subject to change at any time without notice. IC Markets assumes no responsibility for the content of any linked site.
The fact that such links may exist does not indicate approval or endorsement of any material contained on any linked site. IC Markets is not liable for any harm caused by the transmission, through accessing the services or information on this site, of a computer virus, or other computer code or programming device that might be used to access, delete, damage, disable, disrupt or otherwise impede in any manner, the operation of the site or of any user's software, hardware, data or property.